Murree has been declared a calamity as massive snowfall came in the area on Friday. Heavy tourist entry led to extreme traffic jams. The traffic jams were worsened by heavy snowfall overnight, which resulted in road blockages. Snowstorms and intense winds had also uprooted trees that had fallen on the roads and a couple of vehicles. Extreme weather conditions resulted in a huge number of people being stranded in their cars causing at least 22 causalities due to lack of oxygen.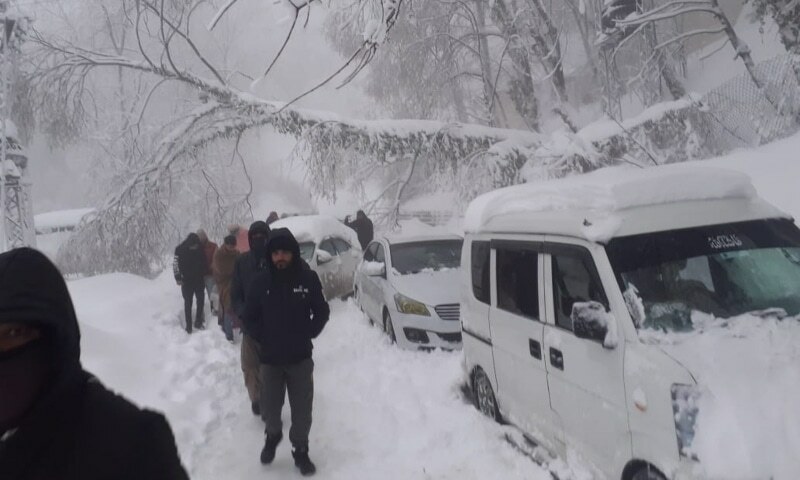 A list issued by Rescue 1122 said 22 people died, including 10 children. The deceased include an assistant sub-inspector of Islamabad police and seven members of his family. In this desperate time, people came together to help the stranded tourists. The locals helped to guide the traffic in any way they could to try for it to start moving. Several people opened the doors of their homes and urged the tourists to get out of their cars in fear of being suffocated.
Police reported that at least eight people had frozen to death in their cars, while it was not immediately clear if others had died from suffocation after inhaling exhaust fumes in snow-bound vehicles. However, the major reason for these causalities can be linked to hypothermia and suffocation.
PTA also directed all telecom operators to ensure uninterrupted services to users and keep enough backup arrangements in case of power outages. Meanwhile, private mobile operator company, Jazz announced free on-net and PTCL calls to all its customers in Murree and Nathiagali to support rescue missions and help ensure essential connectivity in the calamity-hit areas.
On the directions of PTA, cellular mobile operators have extended free calling facility on their own network to users, with zero balance, stranded in Galliat areas. Users may contact their concerned operators for more info.

— PTA (@PTAofficialpk) January 9, 2022
To facilitate people in #Murree and #Nathiagali during this emergency, all Jazz to Jazz calls are free. Despite extremely challenging conditions, all efforts are being made to keep Jazz network up and running in calamity-hit areas.@PTAofficialpk @MoitOfficial

— Jazz (@jazzpk) January 9, 2022
McDonald's Murree opened its doors to the stranded tourists, providing them with much-needed warm shelter, food, and medicines. Food and medicine were delivered to those trapped in the snow, including men, women, and children, as well as visitors throughout the night. They were allowed to remain inside until the situation improved. This gesture of McDonald's was highly appreciated by the government and authorities.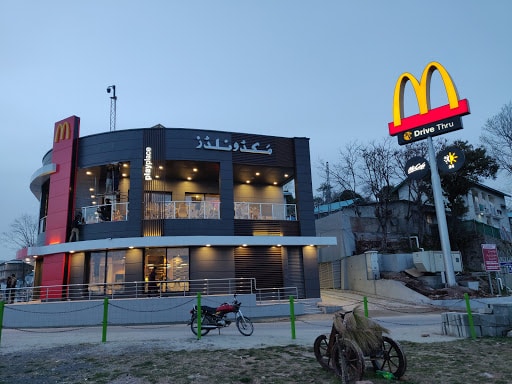 Pakistan Army has been working tirelessly to evacuate the stranded tourists. 500 families stuck in the calamity that hit Murree have been safely rescued in the last 24 hours and the rescue mission is still ongoing. Undoubtedly, this tragic incident has been marked in the history of Pakistan. However, to avoid such cases in the future, we have compiled some precautionary measures to keep in mind before visiting snowy areas:
Prepare your vehicle
Before travelling, make sure your vehicle can endure harsh weather conditions. Equip your vehicle with winter tires, which are designed to grip the snow and ice and provide for better handling. Winter tires can also allow you to brake more quickly.
Safety kit
Make sure to carry a safety kit with you to stay prepared for a winter road emergency. The safety kit should include warm clothing, tire chains, blanket, shovel, and a fire starter if you find one. Make sure to carry warm clothing to avoid turning on the car heater. Using the car heater can create carbon monoxide in the car which is an odourless gas, enough to cause suffocation and deaths.
Keep enough storage of food and drinks
It is highly important to stay hydrated in such times. One does not know for how long they may be stranded in the snow, hence enough food supply should be carried.
Avoid sleeping
Make sure to keep yourself and others travelling with you distracted. What one may not realize is how immense cold can be fatal just like intense heat. Due to immense cold, the vessels of the body contract disrupting the flow of blood. The brain becomes cold or numb and you feel sleepy. This drowsiness is due to the insufficient oxygen in the body. One should act promptly or else it may prove to be fatal.
Keep in mind that the major reason for being suffocated to death in a stranded car is hypothermia caused by carbon monoxide trapped in the vehicle. The deadly thing about carbon monoxide is that you don't realize when it suffocates you. It is colourless and odourless, which makes it difficult to know what's happening. If you find yourself getting sleepy while trapped in the car, it's probably carbon monoxide poisoning.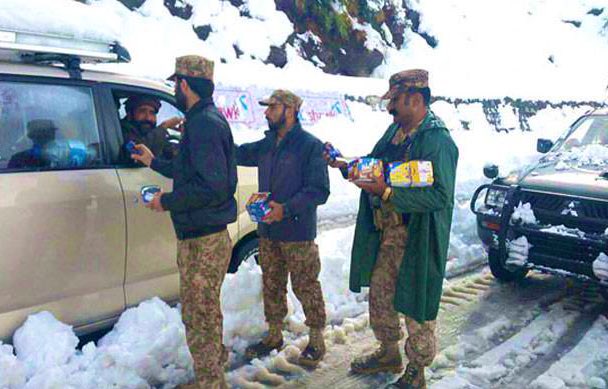 Also Read: Artificial Glaciers In Gilgiit-Baltistan