The scene is established when a shy Maymouna enters and takes a seat next to Kazim during the couple's Mehendi ritual. Two women approach the bride and attempt to articulately position her magnificent lehenga, as though from a moment straight out of any classic Pakistani wedding celebration. Maymouna, played by Sajal Aly, is stunning, and Kazim, played by Shehzad Latif, can't stop staring at her.
An elderly woman says that the women in question are dressed rather 'alluringly,' a scene that we have all seen at far too many shaadis. "Do they not feel ashamed? I'm ready to go! "Kazim's nani Jaan, an elderly woman, adds disgustingly. Maymouna ignores Nani Jaan's continued tantrum and continues to present her future husband to a slew of cousins while he politely acknowledges them.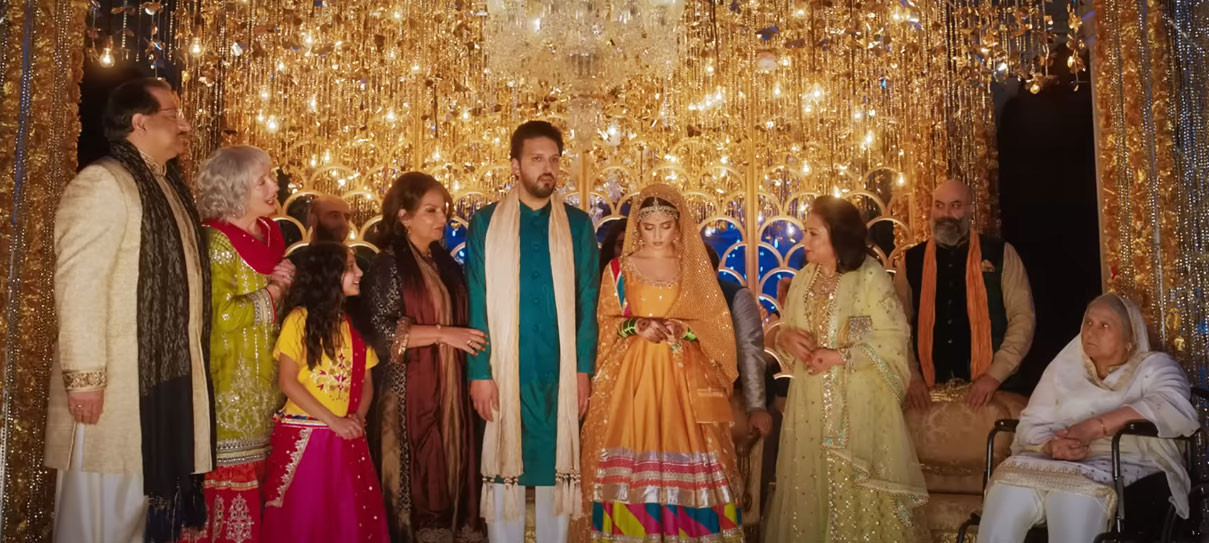 And just like that, the scene moves to a desi dance number.  For this, Jemima Goldsmith's What's Love Got To Do With It? has already scored brownie points.
The film's music:
The song, Mahi Sona, was produced by a British Pakistani musician, Naughty Boy and a British Indian composer, Nitin Soni. The idea, Jemima says, was to bring together artists from all corners of the world. And the same reflects in her cast. "For me, the mixture and collaboration of these talents was the beauty of this film," she added.
"One of the highlights was bringing Rahat into the mixture." The award-winning singer had performed with his maestro uncle, Nusrat Fateh Ali Khan, at Jemima's Valima with her former husband, Imran Khan, all those years back. "I also had been on tour with Nusrat and Rahat many times for the fundraisers for Shaukat Khanum. We had travelled to the US for the same," Jemima continues.
The film was shot during the peak Covid era and Jemima adds how taking precautions was one of the most essential elements when the shooting was underway. With a big set, she implies, the safety of everyone was of utmost importance to her. "Everyone had to be very disciplined. It was an amazing atmosphere when we were all working together," Jemima recalls. She goes on to speak about working with Indian and Pakistani artists in a single project. "There was amazing camaraderie and solidarity. Everyone got along so well."
Why Sajal Aly?
When I ask her why she thought Sajal was the perfect match for Maymouna, Jemima carefully responds, "Because she's a perfect match for Lily James." The producer elaborates, "You must understand, Maymouna and Zoe are supposed to be equally matched in the film. So, Kazim (Latif) will have his head turned by Maymouna because she is so beautiful and engaging."
Reaction to the film:
The film has gained ample praise in London and Toronto, prior to the release in Pakistan. "The amazing thing to me has been the British Asian response to our film," she asserts. "That has been the most heartwarming and touching thing in the whole process. It's been cathartic to see them relate to the film and enjoy it. That was my intention. I wasn't sure if it would work," Jemima chuckles as she adds, "Now, all I have to worry about are Pakistanis! I hope they like it too. We hope they think we've done a good job showing the country in its best light."
What's Love Got To Do With It?  focuses around the custom of arranged marriage in South Asian households and features Latif, Emma Thompson, James, Aly, and Shabana Azmi in significant roles.