The global pandemic that hit the world in 2019 has been mutating into newer waves and still continues to haunt us. The latest variant of Covid-19, the Omicron Variant, is now spreading at a rapid pace in the world. While scientists and health experts are trying to study the Omicron variant, there still isn't much information about it. However, the Omicron variant will likely spread more easily than the original Covid-19.  Yet, how easily Omicron spreads compared to Delta remains unknown.
WHO claims that those infected with the Omicron infection are highly contagious and can spread the virus to others around them even if they are vaccinated or have no symptoms. Currently, around 48 people have been affected by the Omicron variant in Islamabad and this number is likely to go up. The NCOC (National Command and Operation Centre) had urged people to get vaccinated and take precautions against this new variant due to its high transmissibility.
Authorities are calling the Omicron variant the fifth wave in Pakistan that is spreading rapidly. The wave is to hit its full force around Mid-February, as experts have claimed. The positivity ratio in Karachi has reached from 2% to 6% while the national ratio reaches 1.4% with the maximum number of positive cases. Already the original Covid-19 cases have been increasing in Pakistan. The statistics issued by the NCOC suggested that 45,643 diagnostic tests were conducted overnight, during which 708 people tested positive for coronavirus. The new Omicron variant is pushing the positivity ratio of the country to 1.55%.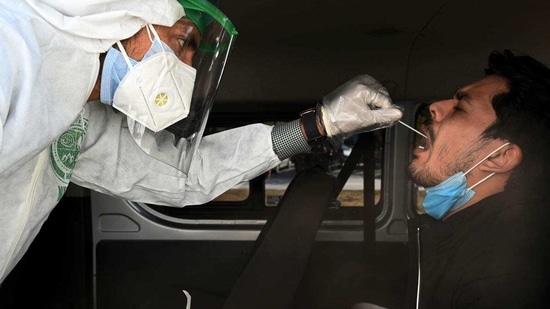 The new cases detected keep showing an upward trend in the positivity ratio. The authorities urge the general public to take precautions and get vaccinated. Vaccination boosters are also being encouraged and an extensive booster drive will be started soon. Since the severity of the new Omicron infection is still unknown, it is urged to follow SOPs, wear masks, get vaccinated, and rush or boosters if you are over 30.
On top of all of this, a new surprise package as FLURONA has also arrived. It's a combination of the Common Flu and Covid-19. Basically, it has the same symptoms as the flu but the lung infection gets severe due to a weakened immune system.
Keep yourself and your loved ones safe against the Omicron variant of Coronavirus and Flurona, please get vaccinated.
Just for fun, here's a meme from our end:
Also read: https://neemopani.com/the-knowns-and-unknowns-of-omicron-variant/