Lets' Grow Together-  a community of entrepreneurs held a grand event called 'Bahaar Rung – Islamabad Women Gala 2023' on February 11, to promote home-based women workers and artisans at F-9 Park. The event was intended to empower women entrepreneurs of the city.
The two-day gala was organized for the fourth time featuring over 150 stalls of made in Pakistan homemade products by women entrepreneurs including a variety of lifestyle exhibits like fashion products, interior décor products, furniture, resin art, paintings, garments and jewelry etc. While some stalls were also given to children to inculcate the spirit of entrepreneurship among the young minds and engage them in healthy activities.
A traditional puppet show was also a part of activities for children to create awareness about various social issues as well as keep alive the traditional performing arts.
A food court was also set up for the women's gala to offer a variety of foods for the families and visitors in a cultural environment. While some stalls were dedicated to imported products for the income generation of women entrepreneurs.
Also Read:Bus Services to be Launched in Islamabad-Rawalpindi
Women Gala Islamabad was a fun-filled event encouraging women entrepreneurs across the country and over 150 women entrepreneurs participated in the event. The sole purpose of the Women Gala Islamabad 2023 was to work for the welfare of local community of women entrepreneurs in Islamabad.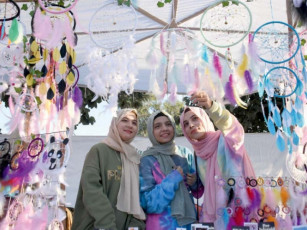 Let's Grow Together (LGT) Community is a dedicated platform for handmade, homemade, art and craft entrepreneurs, especially women working with the mission to create economic opportunities.
LGT has been working for the support and strength of women in order to empower them through direct investment in the total socio-economic development of marginalized communities living in densely populated urban slums.