Bhai jaan se majazi khuda tak ka safar, ye hamaray haan kuch aam sa hai. Jab kahien na hua tou phupho ka beta comes to the rescue. Hum baat kar rahy hain cousin marriages ki. Agar family ko joray rakhna hai tou tumhein taya k beti say shaadi karni ho gi, bahar ki larki ko kya pata bhala kesi ho? And then bahar beti ka rishta tay kar diya tou jaidad ka batwara ho jaye ga. Apnay hain tou hamari beti ka khayal ziada rakhain gay, parayoun ko thori qadar ho gi is ki. This is usually what we hear when it comes to marriages in our region which are mostly arranged and cousin marriages to be specific.
Cousin marriages mean bonding, family security, consensus on property distribution. It sort of sends a message that we are a clan and we understand each other. Out-of-family marriages are still frowned upon, but things are changing slowly. People still have to deal with the pressure of 'Log kya kahein gay, apnay khandaan mein koi larka nahein mila'.
The rural population has shouldered the most burden of cousin marriages. The fear of being looked down on on marrying outside the family takes away the logic that is usually needed in marriage for a suitable spouse. They still have the mindset of 'Larka/larki hamary samnay jawan hoye hain', and they know the inside out of the family.
A lot of studies have been conducted in the last decade on health issues in general and related to cousin marriages. Genetic disorders are one of the leading causes. The children born of cousin marriage are more likely to have these disorders. A lot of us carry genetic mutations that might be recessive meaning ignorable, but the risk of becoming dominant increases due to cousin marriage.
Health Issues associated with Cousin Marriages
As these might look good on paper and seem idealistic cousin marriages have a lot of negative things attached to them. 73% of the Pakistani population is married to their cousins. There are a lot of health issues that have seen a rise in the past few years. The popular diseases or illnesses that have multiplied over the years are as follow:
Diabetes
Genetic mutation of different genes
Deafness
Thalassemia
Anemia
Blindness
Cerebral palsy
Mental disorders
Physical deformities
Hearing and speech impairments
There are areas in Pakistan where some of the genetic defects are common due to repetitive cousin marriages. For example, in Sargodha (Punjab), areas of KPK, Charsadda, due to cousin marriages, birth defects are common in every household and they cannot be treated.
Pakistan has the highest ratio of cousin marriages in the region.
There is a lot of cousin marriage depiction in media. At times, it is a satire or maybe a sitcom. Sometimes it is dealt with seriousness.
There are a lot of funny memes and spoofs made for Pakistani cousin marriages. Let's have a look at it. Hope you will enjoy it with us.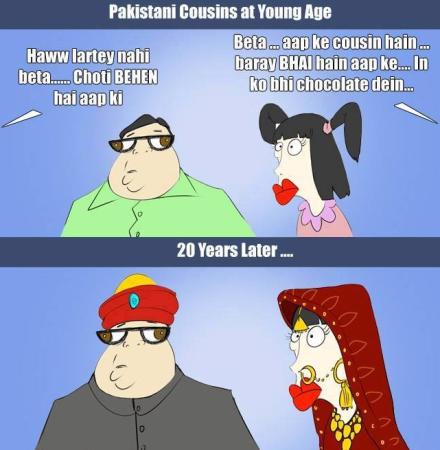 It is high time that we address the health issues regarding cousin marriages and create awareness. All we want is a healthy Pakistan where everyone plays their part in its progress.