On Tuesday, Feroze Khan served defamation notices to fellow actors for making unfounded claims against him. The actor first shared the legal document on his official Twitter handle that included addresses and personal contact numbers.
However, he later deleted the said notice from social media and instead wrote, "Defamation legal notice has been served by my legal team to those for [sharing] false and baseless allegations." The notice, unfortunately, went viral by the time he removed it from his official Twitter account with an impressive following of almost 442,000 followers.
The court filing then turned to the artists, noting that the defendants had posted posts critical of Khan without permission from the latter or any other justification. The defence team for Feroze Khan finished by requesting that the defendants pay the full amount of damages or issue a written apology and give proof of mistreatment.
According to Feroze Khan's attorney, Faique Ali Jagirani, the actor's ex-wife Syeda Aliza Sultan, the filmmakers Musaddiq Malek and Sharmeen Obaid Chinoy, the actors Osman Khalid Butt, Mira Sethi, Minal Khan, Aiman Khan, Sarwat Gilani, Yasir Hussain, and Farhan Saeed, as well as the singer Asim Azhar, have all received legal notices.
Sarwat Gilani was one among the celebrities to whom he had sent the aforementioned defamation notice. Her husband, Fahad Mirza spoke up about him on his Instagram.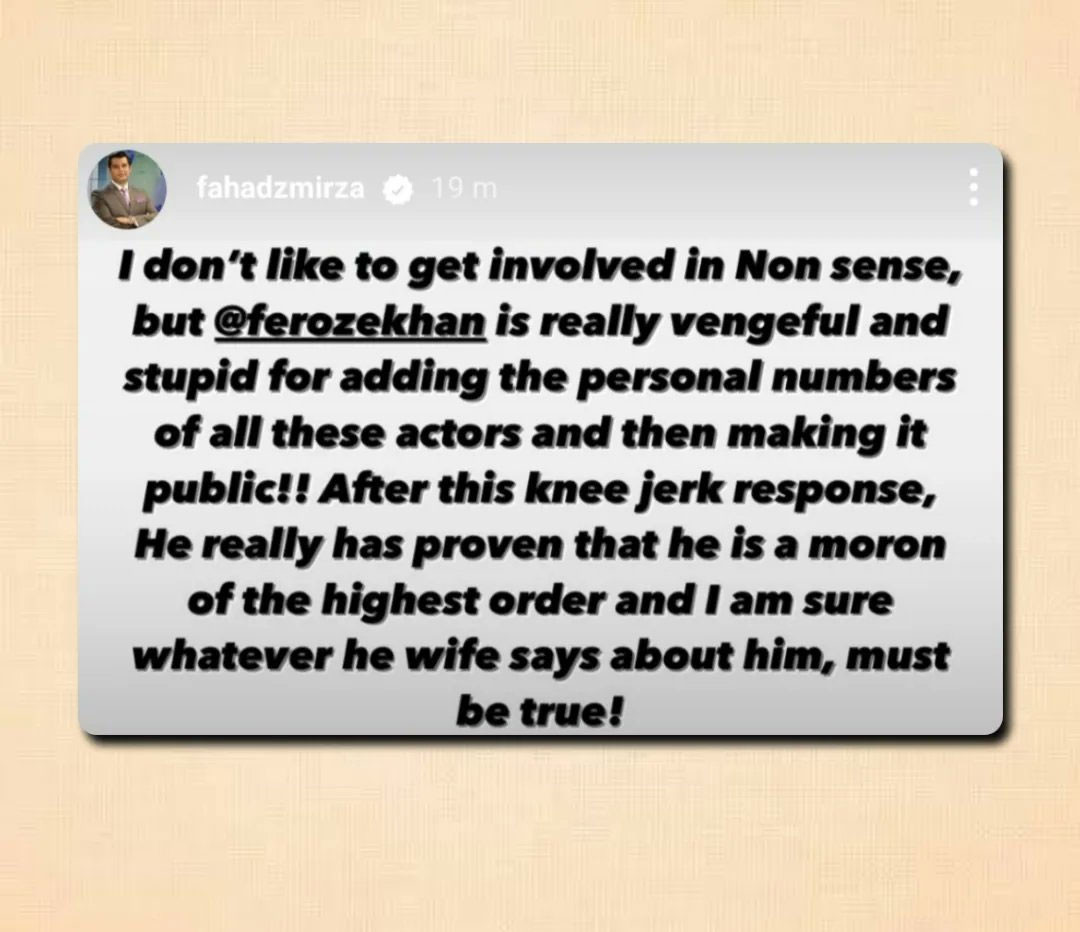 Fahad Mirza, while adding that he doesn't like to comment on "nonsense", shared, "Feroze Khan is very vengeful and stupid for adding the personal numbers of all those actors and then making it public." He went on to add, "After this knee-jerk response, he really has proven that he is a moron of the highest order and I am sure whatever his wife says about him must be true."
After Feroze Khan's ex-wife Syeda Aliza Sultan claimed the actor had abused her physically and mentally throughout their four years of marriage, actors stood with her. Many celebrities spoke out in her defense and demanded Feroze Khan's accountability.