December is here, which means just a month to a whole new year. It feels like just yesterday we were here counting on our blessings from 2020 before moving into 2021, and it's that time of the year again.  However, Latest Fashion Trends in Pakistan are one thing that keep-up with the pace of time. They tend to dramatically differ with every passing year.
We, Pakistanis grasp new styles and drifts each year and just like every year, 2021 too had some trends that were seen followed by most people.
We compiled a list of 5 fashion trends that Pakistan was hot for in 2021:
Revlon Hair Dryer Brush:
Revlon hair dryer brush, although a Holy Grail product was the entire craze in 2021. And why not, it did make most of our lives easier. This brush is said to be a one-step volumizer that dries, style and volumize hair all together. For the year 2021 this meant a full on salon style blowout every time you walk out of the house. Revlon's hair dryer brush did remind us of the 90's fashion which was all about big bouncy hair. We do hope this fashion trend is followed into 2022 too. Fingers crossed!!
Chunky Layered Necklace:
We all know how important it is to accessorize an outfit to look chic. The perfect shoes, bag and jewelry can help uplift even the dullest of the outfits. In terms of jewelry, chunky layered necklaces were all the rage in 2021. Bloggers were seen style their simplest collar shirts of plain clothes with these statement jewels and their look would transform instantly.  This trend truly did make our lives easier by making us look trendy with minimal effort.
Adidas/ Nike Slides:
This unisex fashion trend was a style statement for all men and women this summer. Although comfortable and airy, this rather expensive choice of fashion was a complement in its own.
Depending on how fast the trends in Pakistan are passed on from one person to another, Adidas slides were the most hip statement in 2021. You could see every men and women in one of these. Let's see if it continues to stay with us throughout 2022 or ends with this year.
Ripped jeans:
What's a better option for summers than a loose tee shirt or classic top? This year was all the hype about t-shirts and flowy tops with ripped jeans. That's right, the popular fashion trend made its way into Pakistan and stayed throughout the four seasons.
Both girls and boys were seen wearing ripped pants and it sure did make a difference in their complete outlook; giving them a dapper look. We believe this fashion trend may stay with us for the coming year aswel but who's to say, we'll just have to wait and watch.
Maxi dresses: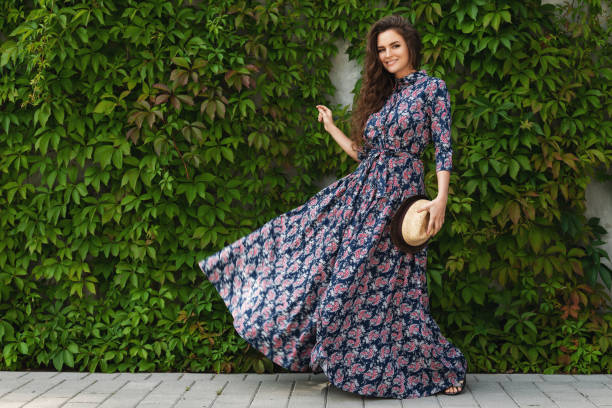 Maxi dresses were the go-to outfit for every girl in Pakistan. And who's to blame them? The colorful prints and flowy fabric made summers so much easier to survive.  This boho fashion trend was adopted from the Middle Eastern countries and was worn all the more elegantly by our women in Pakistan. Paired with or without a belt on the waist, these maxi dresses were a very hit choice of attire this year.
Let us know if you happen to give into these fashion trends in 2021.
Also read: Fashion trends of 2023 according to experts