Pakistani models Hasnain Lehri and Nimra Jacob have unpredictably found themselves at the focus of a controversy following an alleged incident at the Trade Development Authority Pakistan (TDAP) fashion show during this year's Textile EXPO (TEXPO2023).
In a Pakistani tabloid video, Lehri could be seen yelling at Jacob while the other models watched.
In the video, which showed a tense atmosphere, the female models approached Jacob, who was obviously distressed by the alleged event.
As the discussion went on, Lehri vehemently denied the accusations. A couple people were holding him down, while a bunch of models were surrounding a crying Jacob.
To tell her side of the tale, the model uploaded several Instagram Stories. "You can't mistreat me. You can't threaten me. You can't bully me. And you surely will not put your hands on me without consequences," stated the model, "We, in the fashion industry, have seen too much abuse, disrespect, and complete, utter negligence for our safety to tolerate it anymore. I have no space in my heart for forgiveness when it comes to abuse, harassment, bullying, assault, etc.''
she said "This all happened at work, where I made sure to bring it to the attention of the management that I was being threatened by the perpetrator before he even became violent. The management should have taken action the first time I mentioned concern for my safety."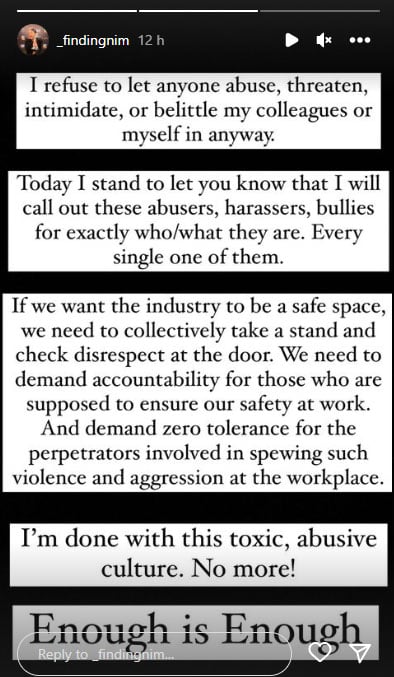 She further wrote, "I'm lucky there were eyewitnesses to this man's horrific actions. From his threats to his violence, some people witnessed it all. As traumatized as I am, I'm not standing alone. I refuse to let anyone abuse, threaten, intimidate, or belittle my colleagues or myself in any way. Today I stand to let you know that I will call out these abusers, harassers, and bullies for exactly who/what they are. Every single one of them."
On the other hand, Lehri while talking to a local publication alleged Jacob first misbehaved with him.
He stated, "I unequivocally refute any allegations of physical altercation and abuse. I come from a highly respected family, we wouldn't get into a fight over something so trivial."
The model described how the situation developed, saying that it all started when Jacob purposely ran into him while they were both walking down the ramp for the sportswear company Spartans. Jacob tapped my shoulder as we were crossing the ramp. We proceeded backstage, and as she approached me, she asked me to teach her how to walk the ramp. She then brought up my deceased father during the dispute that followed.
'There are witnesses for this verbal debate,' he continued. 'The organisers Tehmina Khaled, Tehmim, and choreographer Nubain Ali were among the many people who were present. I brought up my concerns with them, and they informed me that [Jacob] has a history of problems with other models and is infamous for her lack of professionalism,' he added.
"After the performance, as I was getting ready to go, Nubain came over and inquired about the situation. This is when [Jacob] came back and started the debate again as Nubain and I were conversing," Lehri continued. "She then yelled at me with abusive word, and I responded. She then pulled out her phone and began to record me at that point.''