Shopping, a word that excites everyone irrespective of gender and age. If you're like us, the first transaction from your paycheck is for shopping. And why not? The feeling of owning something new is simply very satisfying. But let's be real, no matter how therapeutic this hobby may be, it can get quite heavy on the pocket. We're here to help you with just that! Shop in islamabad with rates.
We'll be taking you for a spin around Islamabad to the most inexpensive and budget-friendly shopping spree.
G-9 Markaz
When we talk about things on a budget, G-9 Markaz takes the cake. A shopping paradise for both men and women with everything from clothing to shoes, jewelry, and even parlors at bargain prices. If you're unfamiliar with G-9 Markaz, we're sure you've heard of Karachi Company as it also goes by this name.
It is the largest and busiest shops in Islamabad because of the wholesale shops for all your needs. Whether you're shopping for bedding, clothes, groceries, or even auto part; Karachi Company is your heaven. Make sure to give G-9 Markaz a visit for a pocket-friendly shopping spree.
Aabpara Market
Aabpara market is one of the oldest and the most wide-ranging markets of Islamabad, situated in G-6. This market comprises of a large variety of shops selling clothing, dry fruits, kitchen essentials, sports goods and every other thing needed. It is the most desired shopping place in Islamabad, comprising everything at affordable prices.
If you're looking for an inexpensive outfit that is pocket-friendly yet extremely chic, you need to visit Aabpara. Although you might need to dig in to find a garment that suits your style, we can assure you that you won't go home empty-handed.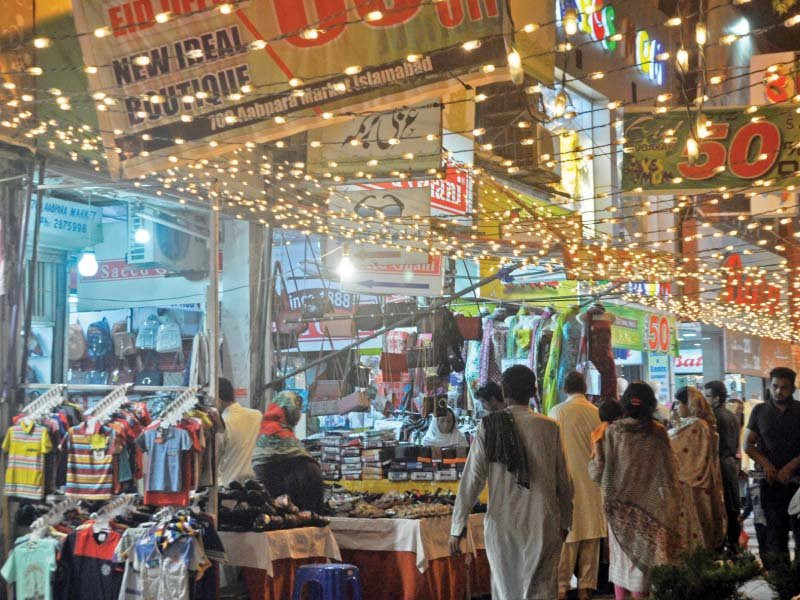 Itwaar Bazar
Thrift shopping was the new trend of 2021 because of all the amazing outfits you could find which are both branded and bomb. Although thrift shopping also requires some digging, it can be very affordable. Itwaar Bazar also known as Sunday Bazar is the biggest place for thrift shopping in Islamabad. If you have some time on your hands, you can dig in and find a dapper outfit for yourself. Itwaar Bazar is another place from where you won't leave empty-handed. Believe it or not, many known celebrities shop from Itwar too. Don't believe us? Google it, my friend.
Jinnah Super Market
The F-7 Markaz of Islamabad is also known as Jinnah Super Market which was named after the founder of Pakistan. Like every other major market of the city, Jinnah super can also get super crowded especially on weekends. It is one of the go-to places for both shopping and munching. Before malls like Centaurus and Giga were constructed, Jinnah super used to be the shopping hub. You can still find clothes at very reasonable rates that are both elegant and fashionable.
F-10 Markaz
Just like Jinnah Super, F-10 Markaz is also the hub for inexpensive shopping in Islamabad. Although most people today find malls more convenient for shopping as all the shops are next to each other, F-10 Markaz requires a lot of walking as the shops are at a distance. Nevertheless, one cannot deny how easy and pocket-friendly F-10 Markaz is.
Whether you're shopping for your evening soirees, casual wear for office/universities, or shopping for a wedding; F-10 Markaz is the place for you. At very inexpensive prices, you can find anything and everything you are looking for. There is no need for an outfit to be hard on the pocket.
PWD
PWD has become one of the busiest places in just a few years and that too for all the right reasons. Most people are now aware of the affordability of PWD. With several shops in one area, PWD has become the most visited place for shopping. You will easily be able to find the best clothing at very reasonable prices.
From stitched to unstitched, you will be able to find all types of garments in one area. If you find an unstitched outfit for yourself, there's no need to worry as there are many tailors in PWD as well who are pretty good at their job. So without worry, pick a suit, drop it off with the tailor and grab refreshment on your way back home. All your shopping-related worries are solved in one place.
Imtiaz Super Store
Imtiaz Superstore is the largest store to expand over 6 cities of the country. The people of Karachi may already be familiar with its extensive range of products and services, it is relatively new for people of Islamabad.
Imtiaz Super Store is not only for grocery and crockery but their garments section is worth a visit. Whether you are shopping for a toddler or yourself, the clothing section is very affordable. Trust us when we say this, you will find everything from footwear to bags at super cheap rates.
Fayyaz Garments
If you're a true Islamabadi, you know about Fayyaz Garments. This shop is our go-to place for comfy loungewear but it is not all Fayyaz Garments are known for. From sleek and stylish jeans to very chic shirts, Fayyaz Garments has you covered. It wouldn't be wrong to say, this shop is the most affordable inexpensive place in Islamabad for all your loungewear and western wear. Fayyaz garments are located in both F-10 Markaz and PWD, so you know where to get the outfit you desire.
Al-Jannat Mall
Al-Jannat Mall has become a big name for the twin cities now. It is the most affordable and go-to outlet if you're looking for formal wear or a kid's collection. Undoubtedly, formal and wedding wear can get hard on the budget. Whether it's a pant-suit for men or a formal suit for women, it is not easy on the pocket. But at Al-Jannat mall, you can get yourself a formal outfit at very reasonable prices.
Also Read: Winter must-haves in your closet