If you have seen a recently trending picture of a fruit platter more times than you have seen your family members in the past 24 hours, you are not alone. What is going on? Why have these trays of fancy fruit got so much clout all of a sudden? Well, it all has to do with Minal Khan.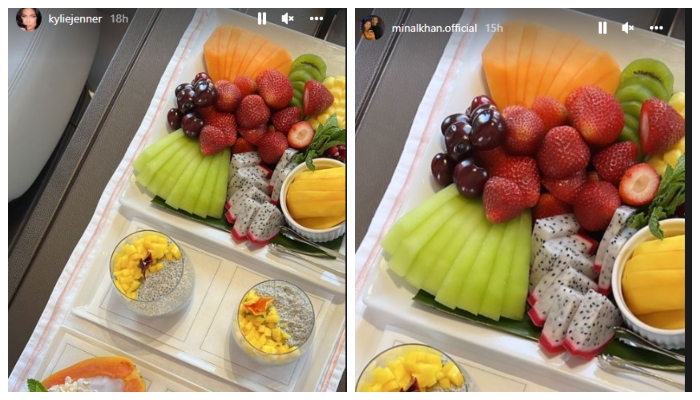 This time around Minal Khan shared a picture of claiming to be of her own breakfast on Instagram story. But it didn't set well with the keyboard warriors who were quick to find that Minal has stolen the picture from American model and reality TV star Kylie Jenner's Instagram story.
It is perfectly okay to find inspiration from other stars but to call it your own is not okay. Credit should be given where it's due. But look like our beautiful actress has been caught red handed in a copy-paste situation. This led to a whole new meme trend on twitter.
Assignment submitted by me and my friend #MinalKhan pic.twitter.com/8NSfPUM214

— PTI Fan Page (@ptifanpage87) June 22, 2022
Relax guys, it is PIA's customised menu for the celebrities on diet 😂 Kylie and Minal both were travelling to Giglit 🙂 #MinalKhan #KylieJenner pic.twitter.com/n91HLuIUvf

— Hira Ibrahim (@HiraIbrahim10) June 21, 2022
Relax guys-Kylie or minal khan ho skta ha sath lunch kr rhe ho🤡#MinalKhan pic.twitter.com/mc370920zb

— Mubarra (@ThisUserIs2Busy) June 21, 2022
Does Minal Khan really think none of us follow or know who Kylie Jenner is 😭😭💀💀😭😭 pic.twitter.com/fxLFrVwNR2

— Miss incompetent (@haniafsc) June 21, 2022
Perfect one😆😆😂#KylieJenner #MinalKhan #Copycat pic.twitter.com/sr9CRNdjb6

— Usama Awan (@usamasub500) June 22, 2022
Why is kylie jenner copying minal khan??? https://t.co/AQV3pk1z5d

— abubakar (@abubakar_karimm) June 21, 2022
Please @KylieJenner Minal Khan ki stories chori karna band kro🤡 #JusticeforMinalKhan pic.twitter.com/aMon6QuJGI

— Hamza Akhtar (@ThugsofPakistan) June 21, 2022
Our netizens are highly alert which serves as a lesson for everyone to be cautious of what they share or post as their own. The twitter police caught Minal Khan and we wonder how many have gone away with it.