The Karachi Anime and Comic Con's fifth anniversary was celebrated on Sunday at the Arts Council in Karachi by fans of comic books, anime, movies, science fiction, and fantasy.
The event, which was put on by Geek Haven, celebrated geek culture in Pakistan and provided a variety of entertainment options for attendees of all ages.
Comic cons are much more than just an opportunity to dress up, despite what many people think. The fifth Karachi Anime and Comic Con featured films, talks, gaming, a marketplace, competitions, an art competition, trivia, performances, and food in a celebration of all facets of geek culture.
Visitors were treated to a variety of well-known figures from films and television, such as Peter Pan, Harley Quinn, Ken Kaneki, Wednesday Addams and her mother Morticia, as well as her sidekick Thing.
Both adults and kids could express themselves and have fun at the event because it was a safe and welcoming environment.
Puffball was screened, filmmaker Arafat Mazhar participated in a Q&A session, a Tekken 7 tournament, a Beyblade segment, a hot takes segment, dance company Anarchy gave a performance, and a costume walk.
The organizer's dedication to "revitalising the spirit and reawakening passion for anime, manga, cosplay, gaming, and the Korean and Japanese culture" was shown by these activities, which had something to offer for everyone.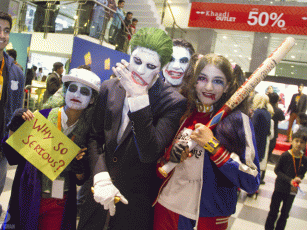 The Karachi Anime and Comic Con's fifth iteration was a huge success and a celebration of geek culture in Pakistan.
People of comic books, anime, movies, science fiction, and fantasy should not miss the event because it provided a welcoming environment where fans could interact and share their common interests.