Official poster for Shoaib Mansoor's new film 'AAsman Bolay Ga' has been released. After Alpha Bravo Charlie, Asmaan Bolay Ga marks Shoaib Mansoor's return to the world of armed forces. The film is based on the Pakistani Air Force's swift response to the Indian Air Force's attack on Balakot.
Maya Ali plays an Indian journalist in the movie, and Emmad Irfani portrays Squadron Leader Hassan Siddiqui. The first trailer for the movie, which debuted in July 2022, very skillfully combined the names of Shoaib Mansoor's previous movies to form the phrase "Khuda Kay Liye, Bol, Verna and Aasman Bolay Ga."
Now that the movie's posters have been made public, the premiere date is getting closer. As 2023 approaches, there aren't many movies scheduled for a possible release, therefore "Aasman Bolay Ga" offers a significant theatrical draw.
Shoaib Mansoor's take on the military after "Alpha Bravo Charlie" will be intriguing to watch. Others have made an effort to imitate the depth and authenticity with which he depicted the struggles and challenges of young cadets. All, though, have fallen short of that reputation.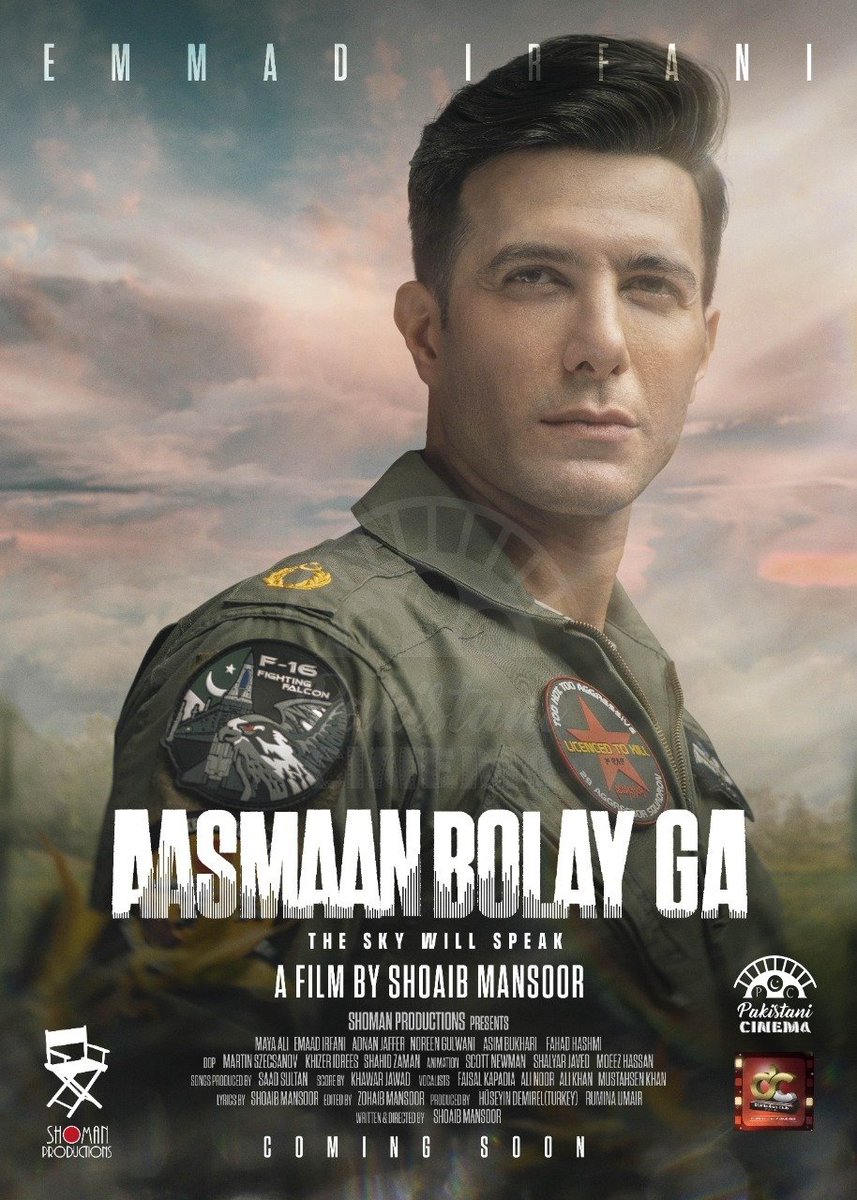 Both "Parwaz Hai Junoon" and "Sher Dil" have demonstrated to the Pakistani audience what the country's filmmakers are capable of in terms of dogfighting. Unfortunately, the sequences and effects fall well short of their Hollywood counterparts. That is, of course, a money and talent restriction.
However, the stakes have been elevated even further with the recent release of "Top Gun Maverick," which used real jets rather than visual effects for the dogfights. We do hope that "Aasman Bolay Ga" lives up to its name in terms of plot and cinematic appeal, though we don't anticipate Shoaib Mansoor to provide a magnificent conclusion like Tom Cruise did this year.
The upcoming Shoaib Mansoor directorial is produced with the cooperation of the Pakistan Airforce and it is being told that this film will be released next year.
Read More: Maya Ali and The Purple Saree