The much anticipated Coke Studio season 14 is out with its first track "Tu Jhoom." Sung by two living legends Abida Parveen and Naseebo Lal, Tu Jhoom is already going viral on social media.  The opening track of season 14 just increased everyone's excitement for the upcoming music.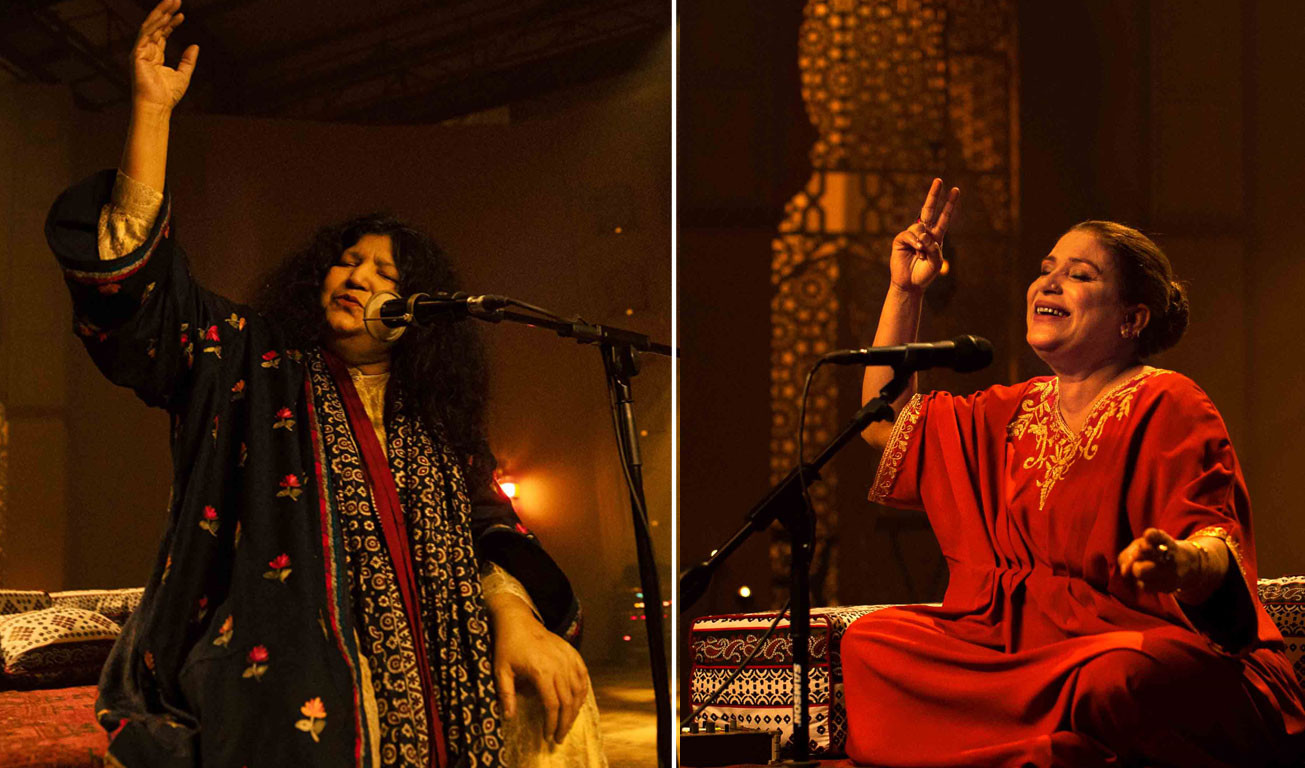 Coke Studio is one of the oldest running annual television shows of Pakistan, with the first season premiered in 2008. The leading musical screenplay brings outlived and studio-recorded performances by renowned and emerging talents across the country.
Coke Studio 14 has now released its first song, 'Tu Jhoom', with Abida Parveen and Naseebo Lal, two of the most famous female singers in Pakistan. The track is hypnotically soulful as it is a perfect blend of traditional sounds – quintessentially desi but with a modern touch. The lyrics are written in perfection by Adnan Dhol and are completely injustice with Naseebo's bold pitch and Abida Ji's mesmerizing depth of voice. Hearing the track is like being in on a secret. Both artists have complex personal journeys and watching them confide in and root for each other feels right.
Season Producer and Curator Xulfi define it as the most honest representation of not only his journey but the turmoil in his mind. Many celebrities and the public were all praised as they reacted to the song on their Twitter accounts.
Naseebo Lal. Abida Parveen. In the houseeee!! Ufff. Thank you #cokestudio @cokestudio 🙌🏼🇵🇰

— Mahira Khan (@TheMahiraKhan) January 14, 2022
Never knew my soul needed the powerhouse duo of Abida Parveen and Naseebo Lal together. Absolutely breathtaking. Cannot wait to hear more from this season of @cokestudio 💗

— Hadiqa Kiani (@Hadiqa_Kiani) January 14, 2022
Heard something beautiful after a long time. What a treat Abida Parveen & Naseebo Lal #TuJhoom #cokestudio14 https://t.co/iEGIQAvanZ

— Mubashir Zaidi (@Xadeejournalist) January 14, 2022
Coke Studio hits refresh and takes off with vocal powerhouses Abida Parveen and Naseebo Lal in perfect sonic harmony. The implications of the lyrics of Tu Jhoom are far and wide and this is a perfect start to #CokeStudio14

— AHI (@aamnaisani) January 14, 2022
Coke Studio has been able to woo the audience with their ever soulful music. Every season delivers atleast one such spiritual performance that sways the listeners off their feet and becomes a track played on repeat. Tajdar-e-Haram sung by Atif Aslam had gained international recognistion and still manages to take you on a spiritual ride that no other song has been able to do in the past. Tajdar-e-Haram was undoubtedly a gift by Coke Studio which still exists in our playlist and always a pleasure listening to. Rung by the music maestros Rahat Fateh Ali Khan and the late Amjab Sabri sahib was another track released by Coke Studio that was simply out of this world. The duo was able to touch several hearts with this musical rendition and im sure left a lot of us teary eyed. The sufiana qalam itself hit deep in the soul but in the voice of the two legends, it took you somewhere beyond existence.
Tu Jhoom is more than a song; it's a declaration. Coke Studio throws the gauntlet down with its true-to-soul season opener. If you haven't heard it yet, we suggest listening to it ASAP, jumping on the bandwagon of praise for the two living legends and the curators.
Also read: Spotify, Coke Studio Partner Up To Promote Pakistani Music