A woman's hair can be her best accessory if styles in the right way. Trust me, if your hair isn't looking good, all the fancy dressing and bling bling jewels are a waste. Your look won't stand out at all.
Hairstyles can become identity and begin a movement. We've seen in the past that hairstyles are always associated to celebrities and their fans begin to follow the same trend. Take Madam Noor Jehan for example, her hair bun is a signature look which many women above 50 look timelessly elegant. The famous Diana haircut was the go-to hair for the 80's, and only recently we saw many girls getting a short bob haircut inspired by Alizey Shah.
Such examples and many more are enough to convince a woman that her hair is her best friend and needs a little push-me-up every now and then. Ready to find out the hip trends for 2022? Well you've come to the right place.
90's inspired layered haircut:
Remember "The Rachel"? Well choppy layered cuts inspired by Jennifer Aniston's famous Friends haircut is on top of the mind for 2022. When styled, it looks bouncy and fresh, even when you leave it to air-dry. There is something still soft and beautiful about it, especially for the gals that don't like to blow dry their hair. Layered haircut offers a variety of styles and anyone can flaunt it with medium to thick hair.
Top knot buns are the definition of versatile. They're uncomplicated, yet confident, and can fit any occasion. Whether you're ready for university or work, or spending a night out, pulling your hair back is always the answer.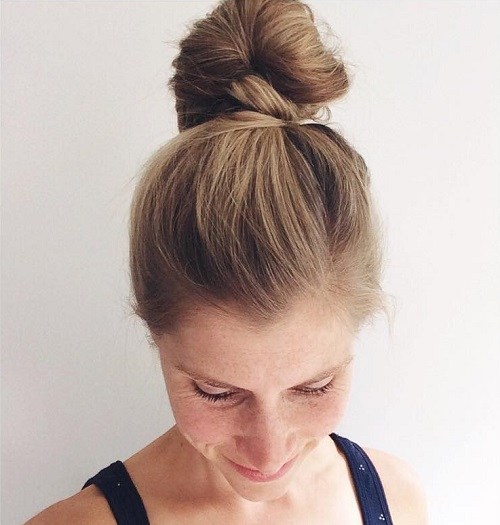 Soft Brown and Gold haircolor:
Hues of brown have been taking over lately and looks like it will last all year. Several celebrities opted with this hair color and as fall is just around the corner, shifting to brownish golden toned haircolor will be the perfect choice.
Fringes are still on the rise, not that they were out to begin with, but curtains bangs have taken over this year by storm. Curtain bangs are perfect to frame your face and make your features more prominent without loosing the total hair length.
What became a tiktok trend has taken over the year 2022 with full swing. Highlighting the front strands of your hair to face the frame are all the new hip trend in town. There's no better way to bring out the shape of your face than with highlights.