Pakistanis are true foodies in all meaning of the word. All meals are unique and distinctive in their own ways but the place Nashta has in our hearts can't be overshadowed. The first meal of the day has to be the most exciting and filling for us foodies. And to make sure this is the case, we Pakistani's have some really delicious breakfast options.
Here's a list of the five most common Pakistani breakfasts that will make you drool.
Nihari:
Nihari is one of the tastiest foods in the sub-continent. This slow cooked beef stew with coriander and green chillies topped with fried onions and paired with a naan – ultimate satisfaction of the taste buds. Since it is cooked on low flame till the beef softens, the gravy is thick and sticky with the perfect mix of spices to kick-start anyone's Sunday mornings.
Halwa Puri:
Ab Iske baray main kia hi kahain. This is every Pakistani's favourite breakfast option; the mighty, halwa puri. Soft, deep fried puri eaten with chickpea gravy and sweet suji halwa is simply finger-licking good. This type of breakfast is eaten in both India and Pakistan and is loved and made special the same way. This is the perfect mixture of sweet, salty and spicy. This dish is not only preferred in breakfast but is also in weddings and other festivals.
Haleem:
Another famous Pakistani breakfast option is Haleem. It is made with minced beef/mutton or chicken and a variety of lentils. It is slow cooked with a variety of spices which gives the dish a rich flavour. Haleem is also preferred to be eaten with naan or paratha.
Paye:
Paye or trotters are basically slow cooked legs of with goat, sheep or buffalo. In some areas this dish is also refreed to as Siri Paye. It is a staple breakfast in most cities of Punjab and is also served in festivals and gatherings.
Naan Channay:
Spicy chickpea gravy served with naan is a go-to breakfast for the weekend in most Pakistani households.  This breakfast option is also convenient to cook in the house as the gravy can be made and stored a night earlier. This gravy is best served with Kulcha naan; a type of flatbread made with maida or white flour.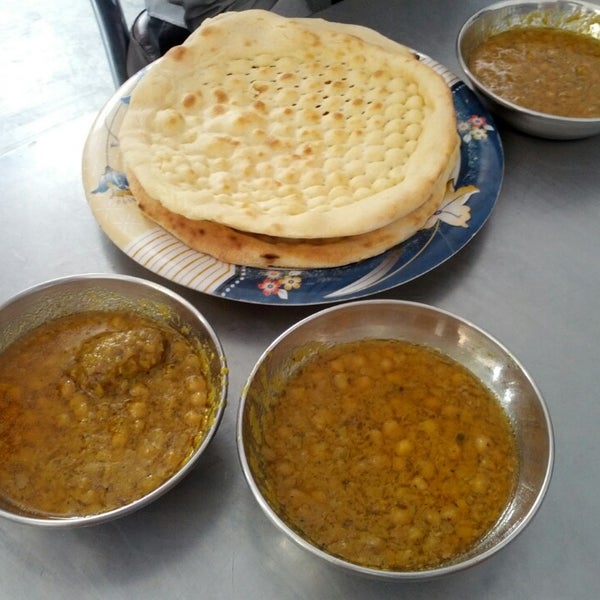 All of the above mentioned breakfast options taste one better than the other. There is no Pakistani who hasn't had all these breakfasts atleast once in their lifetime. There is definitely and addictive flavour to these dishes which is why every overseas Pakistani makes sure to have these alternated for their breakfasts on their visit here.