Nepotism is well-known to exist in our local industry as well, but before anyone else could bring it up, veteran actor Naumaan Ijaz proudly uploaded a photo of himself with his fellow actor and sons to demonstrate the point.
The Sang-e-Mah actor posted a photo of his work colleagues and their boys from a recent wedding they had all attended on Instagram on Tuesday. The image showed Ijaz and his son Zaviyar Ejaz, Behroze and Shahroz Sabzwari, and Javed and Shehzad Sheikh posing for the camera while wearing black shalwar kameez and glittering waistcoats.
"Mashallah! This is what they call nepotism," he captioned the post. "Now go on all of you," he added, referring to how people call the veterans out for push starting their sons' careers in the showbiz world.
Many individuals commented in the comment section that there was no need to "gloat" about their boys' lack of aptitude in comparison to them. A commenter even criticised the actor for the way their sons were given access to the best scripts without any effort, whereas a newcomer without any connections couldn't even have a shot at a B-grade drama without trying several times.
Responding to one such comment, Ijaz shut the trolls up by saying that nepotism happens globally. "Yes dear, it is what it is. This is what has been happening and it will keep happening," he wrote.
While people saw Nouman Ijaz's comment rude, actress Ghana Ali came in his defense.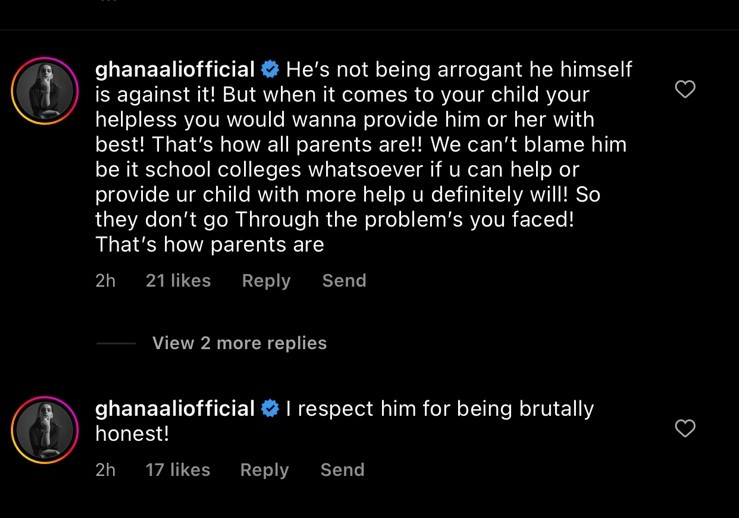 Adding that parents, in other spheres of life such as schools and colleges, go to all lengths to ensure their kids get the best of the world, she exclaimed that she "respects" the Parizaad actor for being "brutally honest."