Media has been considered to be a change agent of socialization. It reflects the society and society has to depend on media for to fulfil of its various needs. Television shows are a major element of media. While in the past there was only one global TV channel, as time and competition progressed, there are now a variety of different TV channels. But what remains common between them is their own "Morning Show".
Morning Shows have taken over television as a new form of entertainment. Hosted by trendsetting females in the media industry, they aim to make the mornings informative. The target audience for morning shows are mainly housewives or those viewers that are able to watch Tv for entertainment between the 9 to 11am window.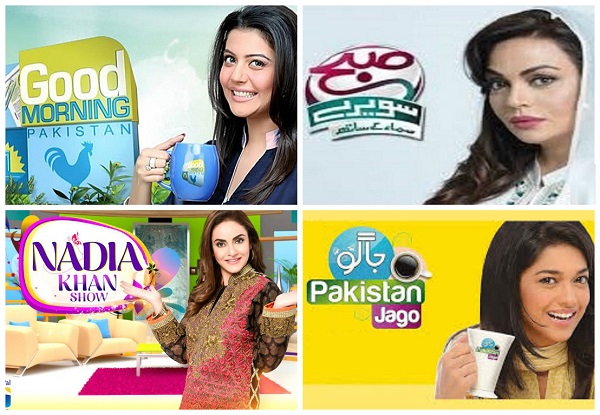 However, these morning shows have remained under fire and have been controversial for a long time now. Many argue that the shows that were meant to be informative are playing a prominent role in displaying ignorance of family values and genuine rights and responsibilities of people on individual and collectively. They have become glamourized instead of being relatable for common public.  Fancy and luxurious lifestyles are being showcased which develop greed in the viewers.
There are always two sides of a coin and similar is the case with Morning Shows. However controversial they may be, many TV channels have gradually changed the content they are showing towards intellectual and information based. These shows are more focused in talking about health, children, grooming and most importantly current situations.
It is highly important to note that the public takes influence of what they see on TV. If morning shows are only about glitz and glamour then the viewers will also learn that there is nothing more to life than fancy clothes and luxuries. However, showing informative content, keeping viewers updated about social issues and talking about solutions of problems will not only groom but enhance the knowledge horizon of viewers.
Our society is still grooming and what is fed to them through media Is highly important.