There's no age or gender constraint when it comes to the passion for games. Desktops have evolved into laptops but for die hard gamers, a screen and adrenaline is all they need. To fuel this adrenaline rush, Lenovo has been a gamers best friend. Lenovo Legion is a Sweet Heaven for Gamers!
Lenovo Laptops have been built for serious gamers. They have a series of laptops, each designed uniquely to assist a gamers need. Nonetheless, all of these series possess ultra display qualities that give a real-life experience to gamers.
Lenovo Legion 5:
Lenovo Legion 5 is a minimalist design to keep a gamer hooked. With several performance options, Legion 5 combines reliable AMD Ryzen 4000 series processors, NVIDIA GeForce graphics, and an optional SSD hard drive with Legion Coldfront 2.0's thermal tuning. With the TrueStrike keyboard's rapid controls and blindingly high refresh rates on an FHD display with 100% colour accuracy, gamers can scream past opponents.
Features of Lenovo Legion 5:
Exceptional gaming performance
Performance improves with more cores. AMD Ryzen 4000 Series enables you to accomplish more things faster than ever before because it has the most cores available for ultrathin notebooks. The newest generation of potent ultrathin laptops features the revolutionary AMD 7nm "Zen 2" core architecture, which offers an incredible leap in speed and performance for multitasking and heavy workloads. Everything is quicker and more responsive, from online browsing and app startup to serious productivity and entertainment.
Recognise the Coldfront
With its industry-beating thermal efficiency and ability to handle any configuration, the Legion 5 15 goes where others dare to tread. The Legion Coldfront 2.0 system, which has been thermally optimised to the nth degree, cools and distributes heat using a dual-channel thermal mechanism made up of 67 liquid crystal polymer-coated fan blades and specialised copper heat pipes.
With the inclusion of Q Control 3.0, which enables you to manually switch between Quiet, Balance, and Performance thermal settings, you will be able to outperform the competition. And activate the thrusters with Dual Burn support, which forces the CPU and GPU to work together for maximum gaming performance.
The advantage you need in audio
Feel the 2W Harman speaker system in the Legion 5 15's powerful audio and deep bass. Additionally, you may experience surround sound in three dimensions with Dolby Atmos® headphone support, which will allow you to fully immerse yourself in each gaming scene. By identifying unique sounds throughout the game, players gain a distinct aural advantage that allows them to precisely spot dangers coming from above or behind.
Lenovo Legion series 5 also comes with variations and successors, each better than the other.  Legion 5, Legion 5 pro, Legion 5i and Legion 5i pro.
Elegant, Seamless design
The Legion 5 has clean lines infused with subtle design elements, from the light-refracting hinge and logo finish to the sturdy anti-smudge polymer talcum-injected materials. It is a seamless combination of practicality, precision, and performance. Through a clear display framed by thin, three-sided mylar bezels and a top-positioned webcam with a privacy shutter, the understated Phantom Black body further balances and combines your gaming and daily routines.
Lenovo Legion 7:
Lenovo Legion 7 is all the hype for true gamers. It comes with various new features that can pump the adrenaline in anyone.
Anyone seeking excellent performance in a svelte and fashionable design should choose the Legion 7 AMD Edition laptop. Its metal trim and anodized aluminium chassis give it a slick, opulent appearance, and a multitude of connections, including HDMI 2.1, USB-C, SD card reader, and others, giving you a lot of dongle-free peripheral options. And because to the battery's big capacity and quick charge, you can travel anywhere with plenty of juice.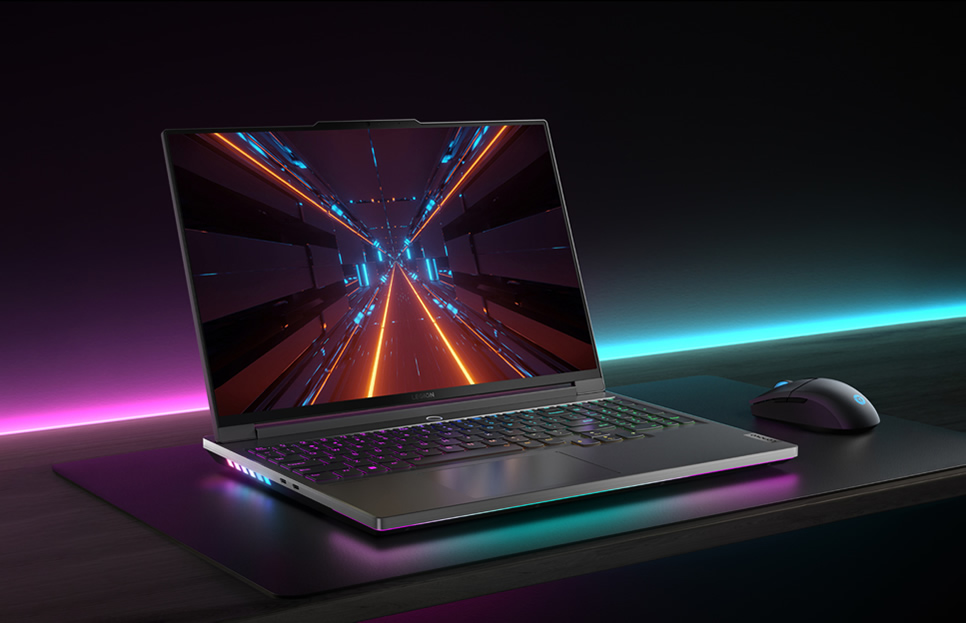 Features of Lenovo Legion 7:
Designed for aggressive players
Increase your game, maximise your frames, and sauté the opposition. Lenovo AI Engine maximises the performance of your Legion 7 Gen 7 AMD AdvantageTM Edition so you can play the newest AAA games as they were intended to be played. For optimal performance across numerous custom-tuned profiles that keep you competitive, use the Auto-Optimization and Auto-Detect modes to detect when your game launches.
Explore new heights with DDR5 performance
Greater frames equal greater play. DDR5 has arrived. With twice the bandwidth of DDR4 and improvements in frame rate dependability and system power efficiency, you can push your gaming beyond what is currently achievable. That translates to better resource management, longer battery life, and much increased performance. The Legion 7 Gen 7 AMD AdvantageTM Edition can handle the most recent in cutting-edge gaming technologies thanks to up to 32GB of 4800MHz memory.
AMD Ryzen™ 6000 Series Processors
The next level of high-performance gaming experiences are unlocked by AMD AdvantageTM laptops thanks to a special fusion of proprietary technology and high-end displays in a gaming-specific design. Enjoy a new level of speed and responsiveness with AMD RadeonTM Graphics and award-winning AMD RyzenTM CPUs. With only AMD-configured systems, clever technologies can be used to unlock even more performance.
Optimized for performance
For the best 1440P performance possible, the AMD Radeon RX 6000M powers your games and boosts your creativity. Utilise AMD Smart Technologies and AMD RadeonTM Software to their maximum potential to boost frame rates or speed up your creative work.
Similar to the Legion 5 series, Lenovo has also designed successors according to the gamers requirements such as Legion 7, Legion 7i, Legion slim 7.
Lenovo Legion 9i:
Along with its first-ever handheld gaming console, Lenovo has announced a new gaming laptop. The Lenovo Legion 9i has top-notch technology and a powerful cooling system to keep the insides warm. There aren't many options for configurations, therefore one must pay a hefty fee for the right to possess one.
Features of Legion 9i:
Stay ahead of the game
A 16-inch 3.2K (3,200 x 2,000) tiny LED panel running at 165 Hz and 3 ms GtoG response time is included in the Lenovo Legion 9i. Thanks to its 100% DCI-P3/Adobe RGB colour gamut coverage, it is also excellent for artists. VESA DisplayHDR, Dolby Vision, and Nvidia G-Sync certifications are further honours.
Strong processors
One receives an Nvidia GeForce RTX 4090 paired with an Intel Core i9-13980HX. It can be combined with a 2 TB NVMe SSD and either 32 GB of DDR5 6,400 MT/s RAM or 64 GB of DDR5 5,800 MT/s RAM. It has a 99.99 Wh cell that enables 330 Watts of fast charging via the adaptor and 140 Watts via USB-C, just like the majority of high-end gaming laptops.
Advanced Coldfront
To create a new cooling solution for the Legion 9i, Lenovo collaborated with Cooler Master. Its name is Coldfront, and it expels hot air from above the keyboard using a tonne of pipes. There are a tonne of additional vents as well, which help control thermals.
Real-time display
Two Thunderbolt 4.0 ports, one each of USB 3.2 Gen1 Type-C and Type-A, an RJ45 Ethernet socket, an HDMI 2.1 port, and an SD card reader are available as I/O choices. One could conceivably power three screens at once using each of the two Thunderbolt connections, which also provide display output.
One of the first gaming laptops that offer Wi-Fi 7 is the Lenovo Legion 9i. It also has the LA2 AI chip made by the business itself, which syncs with the RGB of the keyboard. Additionally included is a 1080p webcam with a physical privacy shutter.
Read More: Apple's market value surpasses $3 trillion once again
If you are willing to invest in a gaming PC and make sure your money doesn't go to waste then surely Lenovo Legion series is your answer.