Pakistani singer Asim Azhar is set to make his mark on the international music scene with his first collaboration with a foreign artist. The musically gifted star will be joining forces with Norwegian singer and songwriter Astrid S on the new version of her song, Darkest Hour.
Azhar, who has been making waves in Pakistan and around the world with hard-hitting hits such as Dard and Ghalat Fehmi, is currently on tour in the United States and the United Kingdom. "My first global collaboration," announced the singer excitedly on his Instagram Story. "Darkest Hour – releasing very soon," he teased.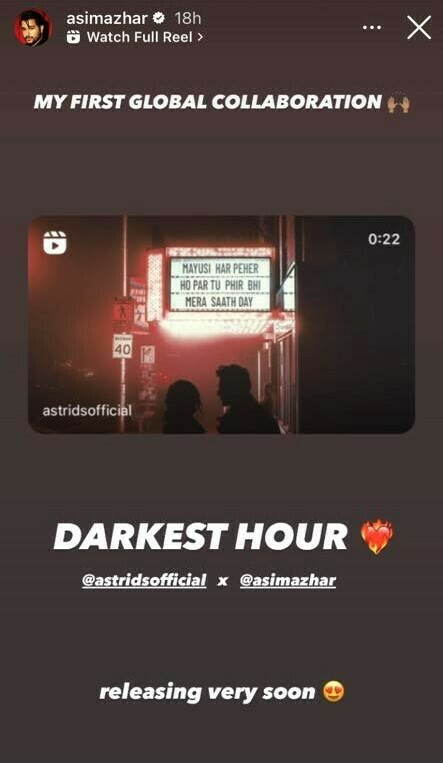 The news of the collaboration was first shared by Astrid S on her Instagram account, where she expressed her excitement about working with Azhar. "I'm exploding [with] excitement! Asim Azhar is joining me on Darkest Hour for his first global collab!" she said. She also shared a preview of the song, where Azhar can be heard singing in both Urdu and English.
It is speculated that the collaboration may have come about as a result of both artists being signed under the same global label. Azhar is signed under Universal Music India while Astrid S is signed under Universal Music. Universal Music Norway also shared a sneak peek of the song on their social media.
The collaboration with Astrid S marks a significant milestone in Azhar's career, as he continues to build his reputation as one of Pakistan's most promising young artists. With his soulful voice and impressive range, Azhar has already captured the hearts of fans in his home country, and this new collaboration will undoubtedly introduce him to a wider audience.
The teaser of Darkest Hour has already generated a lot of buzz among fans of both artists, and the full version is eagerly awaited. This collaboration is just the latest example of the growing trend of artists from different parts of the world coming together to create music that transcends borders and cultures.