Paramilitary police in Islamabad have detained Imran Khan, the former prime minister of Pakistan, outside the High Court. Khan was testifying in court over allegations of corruption that he alleges are motivated by politics. According to reports, after entering the court complex, he was apprehended by authorities in armoured personnel vehicles.
Infuriated by the arrest, a number of Pakistani celebrities have shown their support for Khan. To name a few, Hasan Raheem, Atiqa Odho, Ahmed Ali Butt, and Zara Peerzada are furious about how events have transpired.
"Please get out of your homes guys. He's in jail FOR US. His entire career of political struggle comes down to today. He's telling us to fight for our constitutional rights, please GET OUT THERE AND PROTEST!" Pakistani singer Annie Khalid spoke up in a series of tweets in favour of Imran Khan.
Anoushey Ashraf angrily penned a note on her Instagram Story as well, stating, "One man against Rome. One man. If this video footage doesn't shake you to the core, you're already dead on the inside. Dear Allah, have mercy on Pakistan. Oh people of my country, never forget this black day. Absolute violation of power."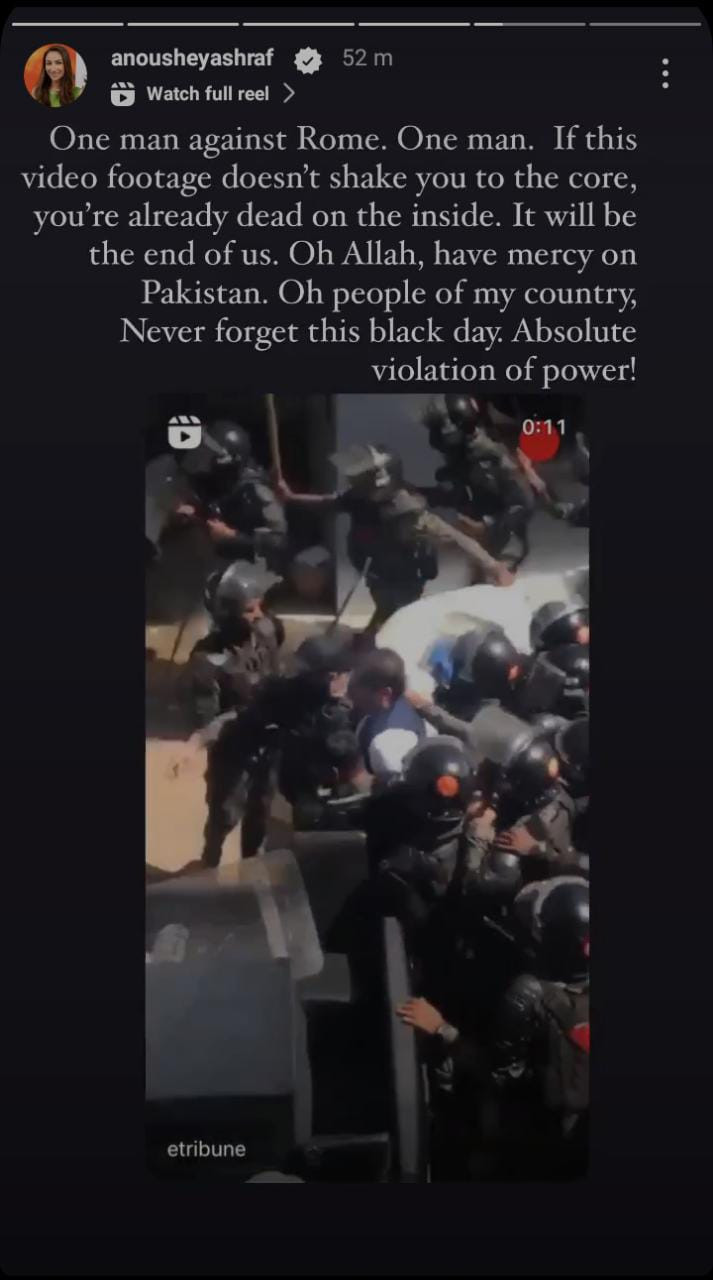 "Absolute disgusting state of affairs and I stand with Imran Khan. Dozens in riot gear arresting a 70 year old who can barely walk. For shame! was this necessary? He said he was ready to go to jail if need be peacefully. 🤢🤢 Disgusting!" Actress Armeena Khan took to Twitter.
Singer Qurutulain Baloch mourned the murder of democracy. "It's official. We are no more a democracy," wrote Baloch in a tweet.
"It's official. We are no more a democracy. #Imrankhan " 
Other celebrities also expressed their disappointment on social media.