One of the most talked-about events of the year was the conclusion of the Johnny Depp and Amber Heard trial in June. The trial gained a lot of attention from fans of both the stars however, Johnny's fan were much more pleased as he won the trial.
Since this whole fiasco was all that was talked out this year, film makers decided to turn it into a movie. The trailer for the film, Hot Take: The Depp/Heard Trial, releasing on Friday, is out now.
The minute-long glimpse into the sensational trial dropped on Wednesday. The film tells the story of Johnny and Amber's defamation trial and how the latter had accused of spousal violence.
The trailer shows how seriously the directors took the stylistic component. The performers have made an effort to mimic Depp and Heard's appearance, as well as their mannerisms and speech patterns.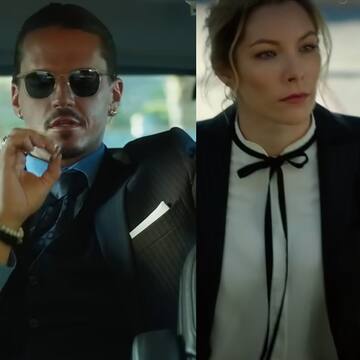 As in the trailer a reporter is heard saying, "It's day one of the Depp against Heard defamation trial," the movie has incorporated small glimpses of the prejudice and social media campaign against Heard. Although both teams are receiving support from the crowd, one team is definitely the favourite. Another time, a video reel criticising the Aquaman star has been uploaded, claiming she only wants "some attention."
Written by Guy Nicolucci and directed by Sara Lohman, the film is executive produced by Brittany Clemons, Angie Day, Marianne C. Wunch, Hannah Pillemer and Fernando Szew.