Apo Whang-Od, a 106-year-old traditional tattoo artist from the Philippines, is featured on the cover of the April edition of Vogue Philippines, making her the oldest person to ever appear on a Vogue cover.
According to CNN, Whang-Od, also known as Maria Oggay, learned how to hand-tap tattoos from her father when she was a small child and is now regarded as the nation's oldest mambabatok, or traditional Kalinga tattooist. She imprints her distinctive geometric patterns on the flesh of her clients, many of whom are foreign tourists who seek out her knowledge, using only a bamboo stick, a pomelo tree thorn, water, and coal.
Whang-Od imprinted the symbols of the Kalinga tribe on the skin of thousands of visitors to Buscalan, the mountain village where she lives, whereas the customary Kalinga tattoos were once acquired by native Butbut warriors. Since the art can only be passed down through blood relations, she has been teaching her grandnieces Elyang Wigan and Grace Palicas how to continue the practice.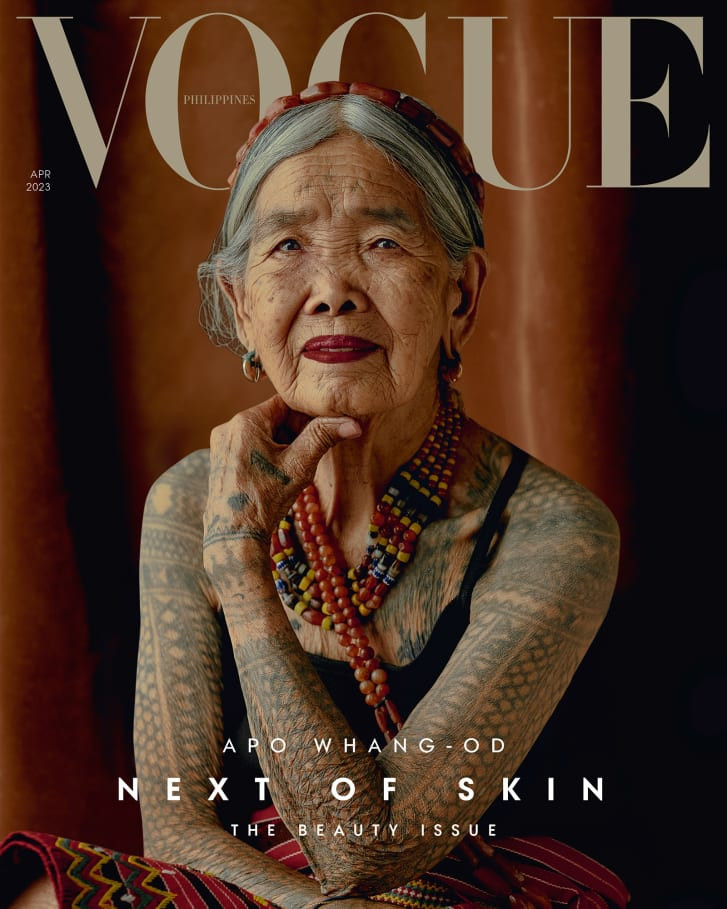 Previously, the oldest person to appear on the cover of Vogue was actress Judi Dench, who graced the front of British Vogue in 2020 at the age of 85. However, Apo Whang-Od's appearance on the cover of Vogue Philippines sets a new record for the oldest cover model ever.