Fan favourite series 1899 has been cancelled for season two. The mystery-creators, thriller's Jantje Friese and Baran bo Odar, have said there won't be a second season despite the fact that it just had its season one debut on November 17, 2022.
The depressing news was shared with his followers on Instagram by German screenwriter Odar, who is also known for co-creating the Netflix series Dark with his partner Friese. They expressed their feelings over the cancellation in a post that was signed with both of their initials.
"With a heavy heart, we have to tell you that 1899 will not be renewed. We would have loved to finish this incredible journey with a 2nd and 3rd season as we did with Dark, but sometimes things don't turn out the way you planned," wrote the co-writers.
"We know this will disappoint millions of fans out there, but we want to thank you from the bottom of our hearts for being a part of this wonderful adventure. We love you, never forget!"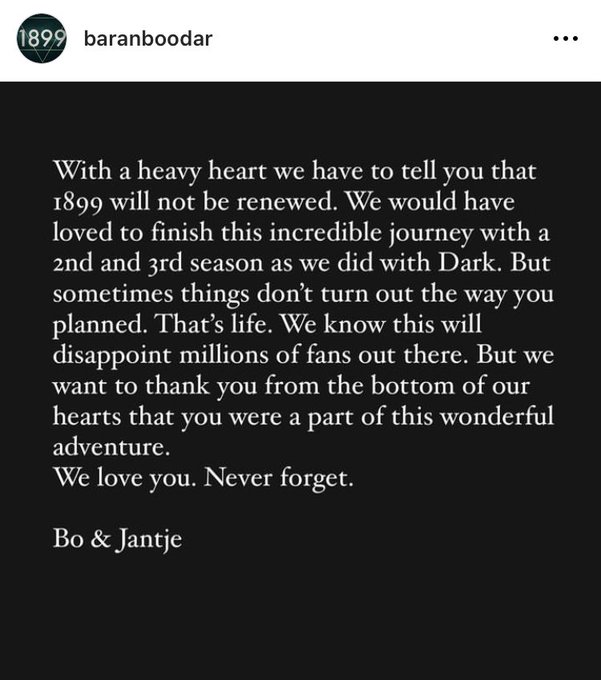 The plot of 1899 centres on a group of immigrants who are travelling by ship when a peculiar series of things happens. The passengers on the ship are from many walks of life and have many aspirations to change their lives abroad, but when they come across another ship drifting in the open sea, their journey takes an unexpected turn.
The show starred Emily Beecham, Aneurin Barnard, Andreas Pietschmann, and Miguel Bernardeau in pivotal roles.
As of right now, Netflix has not issued an official statement on the subject.